Archive for avril 2011
After splitting with its global agency Crispin Porter & Bogusky last month, Burger King has signaled its intentions to roll-out its advertising on a regional basis by calling a separate pitch for its £12m ad business in the UK and Ireland.
Burger King, the world second largest fast food chain, contacted agencies last week with a request for information and a pitch for the local business is expected to take place after Easter.
 The US- based agency Crispin Porter & Bogusky was responsible for introducing The King, its 50-year-old US mascot, to the UK for the first time. A 60-second TV spot saw the King gathering people from around the UK and leading them to Burger King stores.  
Burger King has built a reputation in the Us for running innovative work such as the « Subservient Chicken » campaign, which allowed users to control a person dressed in a chicken suit, and « Whopper Sacrifice », which rewarded people with a free Whopper every time they « sacrificed » 10 friends on Facebook.
However, the company, which is listed on the New York Stock Exchange, had to face with advertising issues. Indeed, in 2006 the children's advertising was banned and cost £100m in lost UK sales.
 Giorgio Minardi, the company's head of North West Europe, in his first UK interview, said: « Advertising is a key part of our drive to get kids and families into our restaurants. It will have a major impact on our top line. »
More recently, another Burger King advertising campaign has been banned after complaints the chicken burger shown was bigger than the real thing.
Consequently, the brand and agencies will have to be careful and answer correctly to the audience demand in order to don't reproduce the same mistakes.
 To finish, I am wondering… Do you really thing that advertising should show the real size, the real appearance or the real effects of its product? I mean, advertising have to sell dreams. If the entire product advertised is as in the reality, people will maybe not be so interested in it. For example, Axe (Unilever), shows in all advertising that its body spray smell so good that if you "get more", you will "have more". Should we ban those misleading advertising?
Axe commercial 2008
If Domestos' products don't clean and kill all the germs as in the advertising, should we ban it too?
Domestos commericial 2010
The « Hello Boys » billboard for Wonderbra has been voted the best poster ad ever created, in Campaign's Outdoor Hall of Fame, held in association with the Outdoor Media Centre. After more than 10,000 reader votes on a selection of 100 ads, the advertising which featured Eva Herzigova's, has been voted the most iconic advert image of all time.
Top poster: Hello Boys billboard ad for Wonderbra
Using a tiny budget, an unknown model, and powerful slogan, Wonderbra created in 1994, one of the most high profile events in marketing history. With The intense media coverage Wonderbra's sales were suddenly pushed up by 9,000 to 16,000 a week. When first unveiled, Eva Herzigova's Hello Boys bra advert was accused of causing car crashes – and 17 years on, it is still turning heads.
But « Hello Boys » billboard is really the most iconic advert image of all the time ?
For sure, this sexy advertising was in 1994, a real revolution in the world of advertising. However, this time seems to be over.
Indeed, today the brand has to introduce a fresh creative team and allow them to pursue new ideas and images. « Fashions have changed and Wonderbra is no longer the ultimate sexy fashion item it was. It must now realize that it has to move on and evolve – Eva cannot last forever neither can the media's interest in her, » says Hailstone, one of the original team who worked on the « Hello Boys » campaign at TBWA. Also, other campaigns such as Apple or the "Be stupid" Diesel's campaign are for me, more creative and attractive.  
Apple's advertising
Moreover, the new contract between the brand and EURO RSCG agency is raising an issue: will the agency be able to be creative with financial restraints? Indeed, since the advent of Eva in 1994 the brand has never spent more than 500,000£ a year on advertising in the UK.
 Consequently, my point of view is, the brand could need to have something very special to enable Wonderbra's image to move into the millennium with credibility and protect its position as « the one and only » in push-up bras.
            La Senza's advertising : in the same shade as Wonderbra's brand, but moderner.           
       Passionata's advertising : more attractive and refreshing.
For the second time, Diet Coke has partnered with fashion designer and photographer Karl Lagerfeld, to create 3 limited edition bottle designs for the brand's new ad campaign.
Karl Lagerfeld, who reportedly lost 90 pounds in 2001 by consuming only Diet Coke and steamed vegetables and has been known to employ Diet Coke butlers, is now popping up on a series of limited-edition bottles of his favorite zero-calorie treat.
The last collection, a silhouetted Lagerfeld in profile and scripted signature adorn the white, pink, and black package — a collectable was available at Galeries Lafayette and Colette as a limited-edition boxed version of the bottle, with matching bottle opener, priced from 47 euros.
Diet Coke – Collection 2010
Dressed in black and white with fuchsia touches, the bottles also feature Lagerfeld's trademark, pony-tailed, white-collared silhouette. Motifs of silver polka dots, black diamonds and bold fuchsia swirls drape the bottles and are topped off with hot pink caps. The collector's edition hits stores in 11 European countries in April.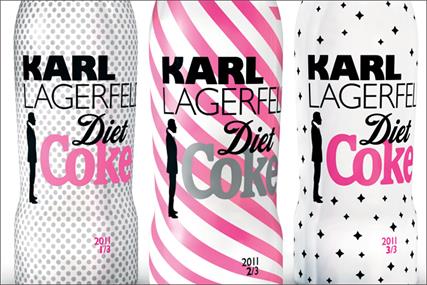 Diet Coke – Collection 2011
Lagerfeld will also shoot a publicity campaign for the brand.
How the beverage industry is evolving??
It often turns to fashion designers for packaging makeovers. Japanese designer Issey Miyake recently redesigned Evian's water bottle, which has also been dressed by Christian Lacroix.
Evian by Christian Lacroix
Do we really have to be glamorous drinking water? A simple bottle of water seems now to be represented as a fashion object reserved to elite. Water has always been an important and life-sustaining drink to humans and it is now classified as a luxury goods. Should we really pay 50$ for water, only because the bottle has been realized by a famous fashion designer? Ok, it is a collector. But what is next? Will they try to put the air in a bottle?